Global celebrities and political figures call for change at the UN, Maine's pot legalization initiative remains alive, Pennsylvania is now set to become the 24th medical marijuana state, and more.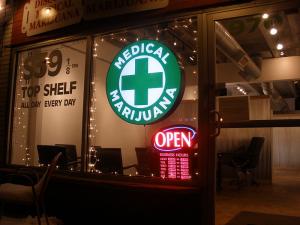 Medical marijuana is coming to Pennsylvania. (Creative Commons)
Marijuana Policy
Maine Won't Appeal Judge's Ruling to Recount Invalidated Signatures. Secretary of State Matthew Dunlap said Wednesday he won't appeal a judge's ruling that overturned his decision to invalidate a marijuana legalization initiative. This doesn't mean that the initiative from the Campaign to Regulate Marijuana Like Alcohol is now qualified for the ballot, but it does mean that state officials will have to review thousands of signatures in threw out last month, including some 17,000 invalidated because they came from a notary whose signature on petition sheets supposedly didn't match his signature on file. If those signatures are found to be valid, the initiative qualifies. It handed in 99,000 and only needs 61,000 valid signatures to get on the ballot.
Top Massachusetts Politicians Form Anti-Legalization Committee. Governor Charlie Baker (R), Boston Mayor Marty Walsh (D), Speaker Robert DeLeo (D), and a number of other political figures and health care professionals have formed a bipartisan committee, A Campaign For A Safe and Healthy Massachusetts, to oppose the marijuana legalization initiative there. "I've met far too many families in Boston and elsewhere where kids have lost their way in school and been shut out of success in the workplace due to addiction and abuse of marijuana," Mayor Walsh said in a release. "Where marijuana is legal, young people are more likely to use it and a vote against legalizing the commercial marijuana industry is a vote to protect our kids and communities."
NORML Endorses Michigan Legalization Initiative. "The National Organization for the Reform of Marijuana Laws (NORML) is pleased to announce our endorsement of the MI Legalize initiative to regulate the adult use, production and retail sale of marijuana in Michigan. MI Legalize, also known as the Michigan Comprehensive Cannabis Law Reform Committee, has collected more than 270,000 signatures in its effort to legalize marijuana via the petitioning process. The grass-roots effort has been collecting signatures from registered voters since June, 2015, and represents the best opportunity to enact a regulatory system in Michigan, a state where it is highly unlikely the state legislature will take any similar action."
Champaign/Urbana to Vote on Legalization Advisory Referendum. The Illinois cities will vote on the advisory measure in the November election. The advisory question will ask voters "Should the state of Illinois legalize and regulate the sale and use of marijuana in a similar fashion to the state of Colorado?"
Medical Marijuana
Senate Committee Approves Veterans Access to Medical Marijuana. The Senate Appropriations Committee passed a bipartisan amendment Thursday, 20 to 10, allowing Veterans Administration (VA) doctors to recommend medical marijuana to their patients in states where medical marijuana is legal. The vote is the second time the U.S. Senate has advanced this issue. The amendment did not make the final appropriations bill last year after narrowly losing in the House.
Pennsylvania Medical Marijuana Bill Heads to Governor's Desk. After months of delay in the House, Senate Bill 3 has finally been approved by the legislature and is headed for the desk of Gov. Tom Wolf (D), who supports it. The Keystone State is now set to become the 24th medical marijuana state.
Harm Reduction
Hawaii House Approves Opioid Overdose Reversal Drug Bill. The House has approved a bill to increase access to overdose reversal drugs such as naloxone (Narcan) and provide immunity to those who administer them. The measure is Senate Bill 2392, which has already passed the Senate and now heads for the governor's desk.
International
Open Letter to UN Head Calls for Shift in Global Drug Policy. Over a thousand people, including financier Warren Buffett, US Sen. Elizabeth Warren (D-MA), rock star Sting, and the former presidents of Mexico, Colombia, Brazil, and Switzerland, among others, have signed an open letter to UN Secretary-General Ban Ki-Moon saying the drug war has failed and calling for a shift in global drug policy away from criminalization and force and toward health  and human rights. The letter comes ahead of next week's UN General Assembly Special Session (UNGASS) on Drugs.  
Original link